Our History
1915In 1915 William D. Hopper returned from Manitoba, where he had been installing telephone lines for the Manitoba Government. He felt that soon everyone would have a telephone and that he had better find something else to do.

A man from Listowel Ontario by the name of Melrose, was building drilling rigs called the Listowel Drill. They were primarily a wood construction mounted on four iron wheels, powered by its own steam engine.

A steam engine was still required to pull the drill, supply steam to it and to haul water. A Sawyer Massey engine was bought for this job.

Steam provided smooth power but was slow on start up as well as requiring wood and water etc. - and so it was replaced in 1920 by a Sawyer Massey gas tractor. The first gas deliveries were made by Supertest Petroleum by a horse drawn tanker.

The first well drilled by W.D. was in 1915 to a depth of 90ft. The price was $1.25 per foot. William Hopper drilled 11 wells that year. In 1926 a larger self propelled Cyclone class C spudder was bought from Orrville Ohio.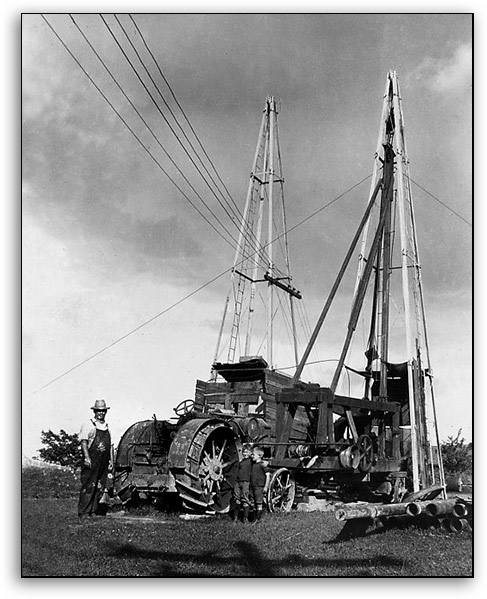 1937In 1937 this machine was mounted on a Godferson truck and while not fancy, increased moving speed from 3 mph. to about 30 mph.. A special $10.00 license was required to drive it on the road. This machine was used until 1952 when it was replaced by a 22W Bucyrus Erie.

1946In 1946 a Keystone 50 machine was purchased and then a second Keystone 50 arrived around 1957. By this time Williams's family was involved in the business - with three sons Neil, James, and Durl working on the rigs. By 1959, William decided that it was time to retire, at the age of 69.

The Bucyrus Erie 22W was converted to rotary drilling by James and Neil in 1963. That conversion proved to be a success and so both of the other Keystone rigs were subsequently changed over to rotary / cable tool rigs. In fact, the 22W is still in use part time, for repair of wells - and the odd time is even put into service drilling new wells that are in tight places.

1970Neil's oldest son Ron, started in the business in 1970 - with younger brother Paul and Ron's wife Candace, joining the ranks in 1989. For a period of 7 years, Ron and wife Candace worked together drilling wells with a D40K Driltech - while brother-in-law Brian Gowan started with us in 1987, on the pump installation crew.

1979In 1979 James and Neil formed W.D. Hopper & Sons Ltd, with Durl forming a company under Durl Hopper Ltd. Durl purchased 2 top drive Portadrill drilling rigs, and ultimately sold the Keystone 50 as well as a Mayhew 1000 within that year.

Consideration was given to moving part of the business to the Stratford area. With that in mind James bought property there, however the plans could not be realized as a result of his death. Durl made a decision to move Durl Hopper Ltd. from his location in Seaforth, to its new home in the Stratford area. Around 1988 Durl's son Shawn joined the family business and shortly after that James' son Doug also joined Durl Hopper Ltd.. Durl passed away in 2001.

TodayDurl's wife Nettie along with her family Shawn, Melissa, Simon as well as James' son Doug - operate Ingersoll Rand T-4, and Portadrill top drive rigs from Durl Hopper Ltd. in Stratford.

W.D. Hopper & Sons Ltd in Seaforth currently employs Neil's sons Ron and Paul, Ron's wife Candace, along with fourth generation Phillip and Matthew (sons of Ron and Candace) - as well as James' sons Allan, Scott, and Tim.

W.D. Hopper & Sons Ltd, runs a D40K3-DH rig, D40K-II rig and the 22W combination rig - as well as 3 pump pulling units and 2 downhole video units. The pump installation business began in 1956 and has continued to grow steadily since then. It has become a sizable part of the company and includes the installation of a large number of submersible pumps - primarily Grundfos and Franklin - in all the different applications that we drill.

Related areas of the drilling and pump business that W.D. Hopper & Sons Ltd continues to branch out into include - municipal, environmental, irrigation, re-injection and ground source energy wells. Drilling conditions are quite varied with depths running from 50 feet to 700 feet for the most part. A majority of domestic water wells are 6 inches in diameter and produce an average flows of 10 to 20 gallons per minute. Larger commerical and municipal wells may produce anywhere from 500 to 1500 gallons per minute, and range from 8 inches to 14 inches in diameter. Drilling conditions may include bedrock in the western part of the province of Ontario, Karst formation with caves, sinkholes, and breathing wells with static water levels from 250 ft. to 350 ft, and many wells central Ontario are screened overburden wells.

Many changes are taking place in the industry - with new regulations to comply with when constructing wells and installing pump systems. Far more paper work, equipment and time is needed since the time when William began drilling in 1915. Today, W.D. Hopper & Sons Ltd approachs all of this as professionally as possible, knowing that this is for the betterment of the industry. Education, training and inspection are essential to all involved in this industry, and is taken very seriously at W.D. Hopper & Sons Ltd - where there is a sense of responsibility as regards management and protection of one of our most precious resources "Water".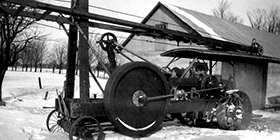 Wooden Rig With Onboard Engine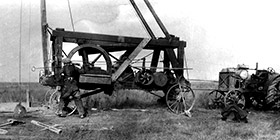 Bailing Well with Wooden Rig & Tractor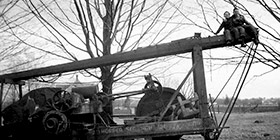 Drilling Rig in Yard at Seaforth